I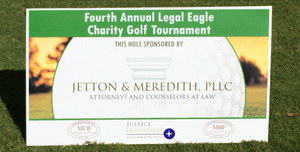 t was another great year as a record number of supporters for the 4th annual Legal Eagle Charity Golf Tournament came together to enjoy the weather and fellowship at the Verdict Ridge Golf & Country Club.
Charlotte attorneys Mark Jetton & Eric Meredith recently sponsored a hole on this fourth annual legal eagle charity event, with the firm's team also winning the tournament. This charity event raises money each year to award grants and financial support to worthwile causes within the Charlotte community.
This year's charities include Legal Services of Southern Piedmont, Legal Aid of North Carolina and the Council for Children's Rights.