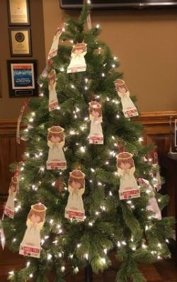 Mark & Eric, along with the staff of Jetton & Meredith Law, wanted to do something special to give back to their Charlotte community this Christmas.
They have decided to support the Salvation Army's Angel Tree program by purchasing 30 Angels to give to children in the Charlotte and Union County area.
Should you wish to join Mark & Eric & the staff at JMLaw in their support of this great cause by taking one of the Angels and purchasing a gift for a needy child, or contributing a cash donation, please contact our office @ 704-333-1114 for details or drop off a gift in our lobby area today.
Please Note: All unwrapped gifts must be delivered to Jetton & Meredith by no later than Friday, December 9th.
The Salvation Army Angel Tree program is a need base program for children ages 0 to 12 years old in Mecklenburg and Union counties. With the help of numerous media partners and generous members of our community, The Salvation Army provides gifts to thousands of children each year.