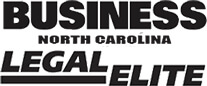 Attorney Eric S. Meredith was recently elected to Business North Carolina's 'Legal Elite' in 2016, the lawyers their peers think are the state's best practitioners in their fields. Ballots were made available to over 20,000 Tar Heel lawyers.  Eric is included in the 15th class of Legal Elite professionals and joins his colleague Mark Jetton in this elite group of legal professionals.
Those receiving the most votes compose the Legal Elite group. Of the thousands of practicing lawyers in North Carolina, less than 3% were selected to the Legal Elite list in 2016.
Eric is especially honored to receive this award as an endorsement from his peers in the legal community. More information can be found here.
For information on the selection/inclusion criteria for this award, please visit: http://businessnc.com/special-sections/legal-elite/