Personal Injury Lawyers In Charlotte
Attorneys Serving Injured Individuals in Mecklenburg County & Across the State of North Carolina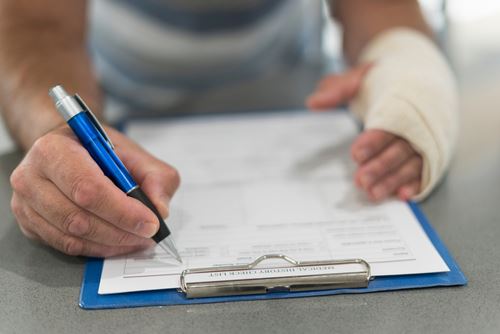 The physical pain and financial challenges you face when injured by someone else's negligence should not be a burden you bear on your own. If you find yourself in this difficult situation – suffering a personal injury caused by someone else's actions or inaction – there are legal remedies available to you.
The Charlotte personal injury lawyers at Jetton & Meredith offer comprehensive representation for the injured victims of accidents throughout North Carolina. If you or a loved one is recovering from an injury, you have the right to seek compensation to cover your losses.* Our team is here to help.
Give us a call at (704) 931-5535 or contact us online to request a free initial consultation.
Types of Injury Cases in North Carolina
Accidents can happen under a wide variety of circumstances and often occur when you least expect them. This can make it difficult to handle the aftermath – medical bills, lost wages, and ongoing treatment – on your own. By retaining a Charlotte personal injury lawyer from our team, you stand a better chance of obtaining the compensation you need and deserve.*
Jetton & Meredith handles cases involving:
What Are the Benefits Of Hiring A Personal Injury Lawyer In Charlotte?
Were you or a loved one recently hurt in an accident? Whether you got hit in a car crash or experienced a slip and fall accident, our personal injury lawyers in Charlotte, NC are here to help. Without a qualified lawyer by your side to help and support you, you may be risking the full compensation amount that you truly deserve. Our attorneys at Jetton & Meredith have years of combined experience and have helped many individuals seeking to receive compensation after a variety of injury incidents.
The benefits of hiring a personal injury attorney include the following:
Paperwork: Your attorney will file all of your paperwork
Time & Money: Your attorney will help make sure that no mistakes are made throughout the process that could cost you both time and money
Support: Your attorney will be there to help you get through this emotionally
Representation: Your attorney will represent you if your case gets taken to court. He or she will be able to gauge the best route to take for your particular case.
Evidence: You will need strong evidence to support your case, and your lawyer will be able to efficiently gather everything that is required.
Are you looking for an experienced attorney to help you get through your personal injury claim? Look no further - let our certified lawyers help maximize your compensation amount. Although our attorneys have worked with numerous individuals struggling after an injury, we understand the importance of giving each claim the individual attention that it needs for success. Contact our law firm today for a free consultation, and to learn more about the many benefits that come with hiring an experienced lawyer.
Jetton & Meredith Personal Injury Contingency-Fee Basis
At Jetton & Meredith, we handle all personal injury matters on a contingency fee basis. This means that you do not owe us an attorney fee unless we recover compensation on your behalf. With a contingency fee plan in place, you can rest assured that your case will be handled skillfully and thoughtfully.
An injury can impact your life today, tomorrow, and well into the future. It can also significantly impact your family. In your time of need, turn to Jetton & Meredith for compassionate yet aggressive representation. We put many years of combined experience to work for you, maintaining a commitment to tailored service and personalized attention.
Suggested Reading:
Reach out to our Charlotte personal injury lawyers today at (704) 931-5535.