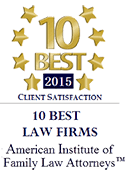 Attorney Eric Meredith has been recent named "10 Best in Client Satisfaction" by the American Institute of Family Law Attorneys for 2015. Eric is honored to receive this distinction as a reflection of the satisfaction of his clients and the legal community.
See more on the AIOFLA 10 Best By State webpage.
From the American Institute of Legal Counsel website:
"…The American Institute of Family Law Attorneys  recognizes excellence of  practitioners in the field. We compile an exclusive list of the "10 Best" Attorneys for each State. Some States depending on size and population density may be broken up into City or Region to be more applicable to potential new clients who utilize this site when looking for an Attorney. The "10 Best" is a prestigious honor for the Attorney as each Attorney must:
Be formally nominated by the Institute, client, and/or a  fellow Attorney;
Have attained the highest degree of professional achievement in his or her field of law; and
Having done so with an impeccable Client Satisfaction rating.
Many Attorneys can achieve high degrees of success but this is often times at the expense or satisfaction of the most important person in the case- the client. AIOFLA looks for Attorneys that have achieved unparalleled success but most importantly have done so for the benefit of their client. Very few Attorneys can do so and our organization recognizes this significant achievement."