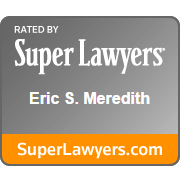 Super Lawyers: A Thomson Reuters business and rating service for attorneys from more than 70 practice areas. Annual selections for Super Lawyers reflect an exacting multi-phase process including an independent evaluation by practice area and peer reviews gathered through a statewide survey.
See Eric's SuperLawyers profile here.
Jetton & Meredith, PLLC attorney Eric Meredith has been selected 5 times, in 2012, 2015-18 for the North Carolina Super Lawyers Rising Star Award.
Super Lawyers, a Thomson Reuters business is a rating service of outstanding lawyers from more than 70 practice areas who have attained a high degree of peer recognition and professional achievement. The annual selection are made using a rigorous multi-phased process that includes a state wide survey of lawyers, an independent research evaluation of candidates, and peer reviews by practice area. The Rising Stars lists are published nationwide in Super Lawyers magazines and in leading city and regional magazines across the country. For more information about Super Lawyers, go to superlawyers.com.
The first Super Lawyers list was published in 1991 and by 2009 the rating service had expanded nationwide. In February 2010, Super Lawyers was acquired by Thomson Reuters the world's leading source of intelligent information for business and professionals.
Eric Meredith is honored to be named to this prestigious list for 2012, 2015-2018.
For more information on the selection/inclusion process for this award, please visit: https://www.superlawyers.com/about/selection_process.html