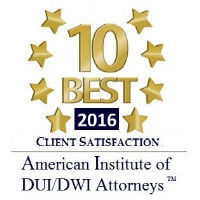 Attorney Mark Jetton has just been nominated as one of the "10 Best DUI Attorneys for North Carolina" in 2016. The American Institute of DUI Attorneys (AIDUIA) is an impartial third-party Attorney rating service and invite only organization who recognize the excellence of practitioners in the field.
This is a significant achievement as each Attorney must:
Be formally nominated by the Institute, clients, and/or a fellow Attorney
Have attained the highest degree of professional achievement in his or her field of law; and
Have an impeccable Client Satisfaction rating.
Membership into AIDUIA… 'is exclusive and extended only to those select few who have reached the top of their profession while doing so with the client's satisfaction being the most paramount importance. Once nominated, AIDUIA thoroughly researches each candidate and the list is narrowed down to the '10 Best' for each area.' Attorney Mark Jetton has been nominated for the 'North Carolina 10 Best' category.
For more information & to review the selection/inclusion criteria, please visit the NC page on the AIO-PLA website here: http://www.aiduia.org/2016-10-best-state/north-carolina/