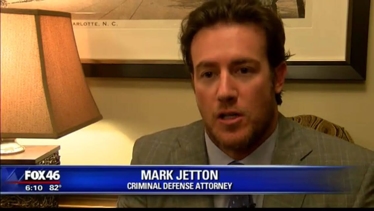 Attorney Mark Jetton talks with Fox 46 reporters to discuss the June 2017 decision to require body cameras on police officers below the rank of deputy-chief both when on-duty, as well as during secondary employment.
The announcement to require body cams came after CMPD started field testing them in 2015. At that time, officers were not required to turn the cameras on for off-duty jobs or secondary employment, such as for-hire concert or event security. Attorney Mark Jetton discusses all the positive outcomes this decision can bring to the criminal justice system and the community that justice system serves.
"I don't see any negatives with [police] having the body cam, excluding the cost factor", said criminal defense attorney Mark Jetton while being interviewed for the Fox 46 story. "The transparency [a body cam] provides is what everyone wants. Everybody just wants to know the truth and exactly what happened… these cameras are providing that."
If you have questions about the recent Charlotte-Mecklenburg body camera requirement, including how it may impact a current or past legal situation you may be dealing with, please contact our law offices today and speak with our attorneys.
For the complete interview, please check out the Fox46 piece, "CMPD Expands Use of Body Cameras," here.