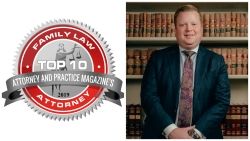 Jetton & Meredith, PLLC is pleased to announce that co-founder and family law managing partner, Eric S. Meredith has been named Top 10 Family Law Attorney for North Carolina by Attorney & Practice Magazine. Mr. Meredith focuses his practice exclusively on cases related to divorce and family law, child custody, child support, post-separation support and alimony, equitable distribution, and all other areas involving family law and domestic law.
Attorney and Practice Magazine Top 10 Attorney award is an achievement reserved for only those attorneys who have demonstrated the highest degree of excellence in his or her area of law. Because of their stringent standards, less than 1% of attorneys nationwide receive this invitation for membership, subscription and list inclusion published to their site and in their quarterly magazine.
This list recognizes the significant achievements of those lawyers whose practice elevates the standards of the State's Bar as well as provided a benchmark for other practitioners. Their list encompasses industry leaders who have been featured on networks such as ABC, NBC, CBS, MSNBC, FOX, the New York Times, The Washington Post, Time and Newsweek.
Attorney & Practice Magazine can be found online where lawyers can be searched by practice area and location.