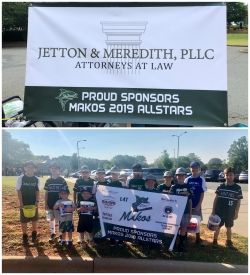 Jetton & Meredith, PLLC is proud to sponsor the Mint Hill Makos Allstar MHAA 8U baseball team for the 2019-season. This is the 2nd consecutive year that Jetton & Meredith has supported the Mint Hill Makos and the Mint Hill Athletic Association.
Established in 1972, the Mint Hill Athletic Association is a non-profit organization that has provided a source of athletic opportunities for the youth of Mint Hill and its surrounding communities. MHAA offers baseball, basketball, football, soccer, softball and now tennis to boys and girls ages 3-18. The Mint Hill Makos are a group of talented 8-year-old boys who will be representing the MHAA by participating in several area tournaments this spring and summer. They will also be competing against teams across the local area and as far as Myrtle Beach.
More information on the Mint Hill Athletic Association can be found online where you can learn more about other offerings to young people in the Mint Hill area, and to follow how the Makos are doing this season.