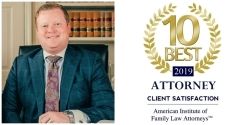 Jetton & Meredith, PLLC is pleased to announce that our co-founder and family law managing partner, Eric S. Meredith has been named Top 10 Family Law Attorney for North Carolina by American Institute of Family Law Attorneys.
Founded in 2014, the American Institute of Legal Counsel believe that Attorneys should be recognized for excellence in their field and that potential clients can benefit from this knowledge. American Institute is an impartial third-party attorney rating organization comprised of 13 divisions consisting of Bankruptcy, Criminal, DUI/DWI, Personal Injury, Family Law, Litigation, Lawsuits & Disputes, Immigration, Workers' Compensation, Employment & Labor Law, Estate Planning, Military Law, Elder Law and Social Security & Disability Law Division.
The American Institute's Family Law Division recognizes excellence of practitioners in the field and annually compiles an exclusive list of the "10 Best" Attorneys for each State. The "10 Best" is a prestigious honor for the Attorney as each Attorney must: Be formally nominated by the Institute, client, and/or a fellow Attorney; Have attained the highest degree of professional achievement in his or her field of law; and Having done so with an impeccable Client Satisfaction rating.
American Institute's Family Law Division looks for Attorneys that have achieved unparalleled success but most importantly have done so for the benefit of their client. Very few Attorneys can do so and their organization recognizes this significant achievement.
American Institute of Family Law Attorneys can be found online where lawyers can be searched by practice area and location.