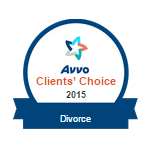 Attorney Eric Meredith has been honored with the distinction of being named a winner of the "Avvo Clients Choice Award 2015″ for his work in the divorce law field.
Click here to see Eric's profile on Avvo.com.
Avvo was founded in Seattle, Washington with the goal of making legal help easier to obtain and to help people find a great lawyer in their community.
Each year, Avvo presents attorneys across the country with the "Clients' Choice Award" based on both the quantity and quality of client reviews that the attorney receives on his or her online profile. To be eligible for this award, an attorney must have received a minimum of five reviews with at least 4 stars on Avvo within a year.