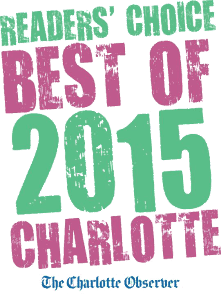 Jetton & Meredith Law Named First Place Recipients in 2015 "Charlotte Observer's Reader's Choice Award"
January 2016 – Jetton & Meredith Law was recently named First Place recipients of the "Reader's Choice Award for Best Charlotte Attorney" by the Charlotte Observer.
The Reader's Choice Awards, published in a special December 2015 issue of the Observer, are a selection by the Charlotte-area community and voted on independently, administered by the newspaper. Each year, hundreds of finalists are voted on by the community and the top three in each category are awarded. Jetton & Meredith won the First Place award in this category. This is the first such award for the firm.
"This is huge for us, the firm and our clients, who continue to see the actual benefits of working with such a trusted legal firm" said Mark Jetton, managing partner of Jetton & Meredith. "We care deeply about each of our client's situations, work hard for them in court, and they reward us with this honor.  Thank you Charlotte!"