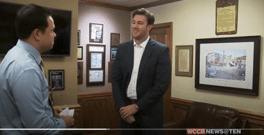 Attorney Mark Jetton talks with WCCB News about Spencer Merriweather, the new DA for Mecklenburg County.
Jetton states, "He's supervised teams, he's been on the drug team, he's been on the habitual felony team, he's been on homicide teams." Mr. Jetton says Merriweather can leverage his experience while still bringing a fresh perspective. "He knows all the individuals who work over there, he's got a rapport with them. That's going to help him," Jetton says.
For the complete interview, please check out the WCCB page, "Spencer Merriweather Sworn In as New Mecklenburg County District Attorney."