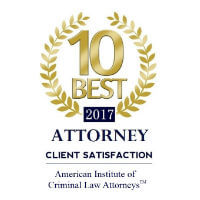 Jetton & Meredith is pleased to announce that the firm has been recognized by The American Institute of Criminal Law Attorneys for exceptional performance as a "2017-2018 10 Best Criminal Law Firm for Client Satisfaction".
American Institute is an impartial third-party attorney rating organization comprised of 13 divisions consisting of Bankruptcy, Criminal, DUI/DWI, Personal Injury, Family Law, Litigation, Lawsuits & Disputes, Immigration, Workers' Compensation, Employment & Labor Law, Estate Planning, Military Law, Elder Law and Social Security & Disability Law Division. The American Institute of Criminal Law Attorneys (AIOCLA) is an impartial third-party Attorney rating service and invitation only legal organization recognizing excellence of practitioners in the field.
American Institute was created in 2014 with an innovative idea that the organization could save time, energy and effort for those who are looking for the most qualified attorneys in their area and at no cost to the consumer. Membership is an exclusive honor and extended only to those select few who have reached the top of their profession while doing so with the client's satisfaction being of the most paramount importance.
For more information on the selection/inclusion criteria, please visit http://www.aiocla.org/